We Are Looking For
Superstars!
Experienced or Inexperienced, We'd Love to Meet You
Your Sucess
Is Our Top Priority
Are you stuck in a boring job with limited growth potential?  At Inception we offer amazing growth potential in the exciting world of online marketing.
Maybe you want to learn how to build websites, or maybe your fascinated with social media, or paid advertising.  Whatever your passion is we'd love to meet you.
Positions
Currently Available
Graphic Designer

You will be helping the Website Development Team with more complicated image projects and specialty website designs. You will also create advertisement designs for Facebook and Google Ads and develop ad concepts. Experience in Photoshop is a must.
Website Builder

Interested in building websites, but don't have any experience? You might be perfect for us. Our web development team is filled with amazing people that had no idea how to build a website before they came to Inception. Start a career in the booming field of Online Marketing with one of the top companies in the country.
SALES/CONSULTING

Be a part of a fast-paced team! Daily tasks include consulting and educating clients on our products: SEO/websites, Facebook and Google Ads over the phone and email. No cold calls! All of your sales calls will come from the clients. The ability to communicate with people clearly will help you succeed in this position.
Excellence
A talent or quality which is unusually good and so surpasses ordinary standards.
Excellence
"Results matter and we are firmly committed to them.  We take things beyond what is expected.  We thrive on collaboration, because we are all working together towards the same purpose.  We are flexible and resilient to change, challenges, and obstacles."
Initiative
An introductory act or step; leading action. Readiness and ability in initiating action.
Initiative
"We look at everything and ask how it can be made better.  Processes, technology, creativity, and our culture all demand innovation.  We are relentless in our pursuit to make everything we do tomorrow better and smarter than we do today."
Integrity
Adherence to moral and ethical principles; soundness of moral character; honesty.
INTEGRITY
"We make decisions that are consistent with truth, honor, and doing the right thing.  We put what's right, above what's best for us.  
When challenged, we take the high road with our customers, partners, and each other."
Growth
The process of developing or maturing...increasing in value or importance.
Growth
"We love to see our clients increase their leads and online marketing presence.  When our team members grow personally and professionally we all benefit.  As a result of helping our clients and each other, our company in turn also grows."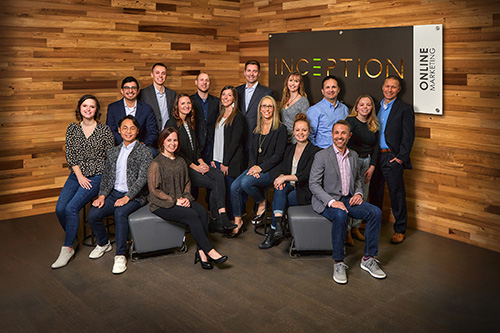 Be a Part of the Fastest Growing Team in Green Bay
There are very few businesses that offer the growth potential that Inception does. If you're a great team player, and a hard worker then you'll love being in our space. We'll give you knowledge that you can't learn anywhere else and give you a great foothold in the digital marketing space.